Master Chef Michael (Mick) Elliott C.C.C, M.Sc.
"Make it sexy" he would always say when plating his food and mentoring the LC Family! We are honored to introduce this scholarship program in remembrance of the culinary legend "Chef Mick Elliott".
Born and raised in Newcastle, at the northeast end of England, Michael (Mick) Elliott attained the status of being ranked among the top three chef instructors in the world. He was a graduate of the "City & Guilds" in London, England and apprenticed under Chef Anton Mossimann at the Dorchester Hotel in London.
Chef Mick achieved the acclaimed designation of Certified Chef de Cuisine (C.C.C.) and was a Certified Red Seal chef along with his Executive Master of Science Degree in: Culinary Chef Administration (MSc).
Passion powers performance and Chef Mick was a testament to not only his own personal standards but to those he inspired.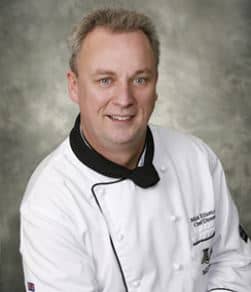 As a former Executive Chef of the Queen Elizabeth II, a luxury cruise liner, and Executive Sous Chef of "Little Dix Bay", a 5-Star Resort in the British Virgin Islands, Chef Mick attained international status. A chef of great skill and finesse who earned a reputation for gastronomic brilliance, Chef Mick had a passion for all things local, and his creativity with culinary techniques, specifically his patisserie skills, was unparalleled. He received numerous medals and awards for culinary excellence in regional and international competitions, televised series, contributions to culinary textbooks, and associations with various advisory boards within the food industry.
Chef Mick won various Gold, Silver and Bronze medals in Atlantic Canada and the United Kingdom, Channel Islands, U.S.A, and British Virgin Islands, the Nisod Excellence Award from the University of Texas, as well as being one of the host chefs for the 1988 Winter Olympics in Calgary, Alberta.
Chef Mick's joy came from inspiring enthusiasm in student chefs of all ages, which led him to instruct culinary programs at various colleges in Canada.